Think Exam Features ::
Hassle free Question Management

Add question quickly & easily
Import your questions
Arrange them according to subject & topic
Categorized your Exams
Create assessments for practice
Prepare your online exam
Decide when to publish them
Make Money out of it
Create a package & add test
Monetise your package
Also create a free package
Manage your Student
Add student / trainees quickly
Import students
Mail your students
Share Information
Upload news & latest update
Resolve their enquires
Provide benefits of your discount policy
Analysis at forefront
Real time reporting tool for student
Proactive analysis of your organization
Top 10 Reasons ::
1.Increase your efficiency for conducting exam by up to 90%.
2.Your data is safe & secure.
3.We provide you more scalable, more reliable & low cost application platform.
4.Complete solution for online & offline exams.
5.Easy to use & integrate with existing system.
6.Guaranteed lowest price of any major provider.
7.24/7 phone based customer support.
8.Looking for custom development? You define, we built.
9.Start your Brand building & Look professional.
10.Focus on your core areas & allow us to take care of your exam process.
Lets Begin
Think exam enables educators, publishers & trainers to conduct any types exam that include online exam, offline exam & paper-pencil exam.
With Think Exam, you can create your online question bank, make online tests, bundle up all your tests to create a package & then allow student to buy access. Think Exam leverage you a structured step-by-step process for conducting online, offline & paper-pencil based examination.

It's about you not us!
Student need to be emotionally engaged with you & passionate about your teaching methodologies. Make your student feel about your initiative towards the current scenarios of competitive exams. We understand your love for teaching, commitment to students & desire to see your student succeed.

Think Exam gives you a platform where you can leverage technology to enhance their preparations. We are committed to work with you to ensure your success. We firmly believe your success in ours & your growth is our business.
Add Questions
Adding Question to system has never been so easy.
Think exam provide easy, intuitive & additively easy way to manage questions database.
We provide you with rich set of question types. Some among them are
Single choice.
Multiple choices.
True & False.
Fill in the blanks.
Match the Following.
Match Matrix.
Essay with Single choice.
Essay with Multiple choice.
Some of the question types which we offer are our USP's. User interface for these question types are designed after days of research so as to make them easy for a user who doesn't know much about computers.

You can create your own pool of questions & categorised them according to their subject, topic & their question types. Assign difficulty level to question and also select the exam in which they were previously asked. You can also add explanation of your question which student can see after the exam is over.
Upload Image
You can upload images with the question as well as with options. And the best part, we provide you also this through JavaScript which takes no time to upload the page.
What makes it fun to add Question into system for a naive user?
Well this is very simple. User has to type, use tab & enter. He will ever see a page refreshing while entering question.
Not even this, you can upload question from excel and word file.

Well it's not over yet.

We also have question bank desktop softwarefor offline use. You can sync your data from desktop application to our online question bank.
Create an Exam
Educators can now create an exam just by clicking 3 times.
At Think Exam, we truly believe educators, teachers & trainers are as busy as a bee. We understand their devotion towards students and finding out time for other stuff is little difficult.
Now creating a test is a 3 step process.

Add a Name, Duration & Type of Test.
Select Question from Question Bank & put them into a Pool.
Submit the selected Questions for confirming the Test.
You have the flexibility to add questions even after test has been created. Question can be added randomly if you allow computer to do so. Just a click, Question randomly of different difficulties can be added.

Even if you are thinking of setting your test section wise, Think Exam impart you the functionality to do so.
Categorizing your Exam
Think Exam categorise exam into two categories: Practice& Examination Type. Examination Type has a date and duration which enables student to view their test at that specific date & time. Examination Test was designed to give a real time exam feel to student. Practice Type test enables student to give a particular test again and again.
Save & Safe Exam
In the event of power failure, Internet connectivity or some unforeseen circumstances during the test, student will always be able to pick up where they left off. With Think Exam, student answers are saved in the cloud each step of the way. We facilitate student with safe exam procedures. Student can mark a flag to review question which they want to revise at the later stage of the test.
Jumping to Sections
During the test, Student can jump from one section to other section & one question to another just by click.
End of Test
At the end of the test, students are notified by remark of their performance. You can set the remark as per your marking strategy. Student can only view report for which they are given permission.
Offline Desktop Application
It might be possible that most of the student studying in your institute are not having Internet all the time. To overcome such a situation, our state of art designed Think Exam offline application enable your student to give test after one time authentication from the online application.

All tests from online application are downloaded to your computer and with the help of sync option in the application, students are able to submit their result online & view their detailed analysis.
Manage Student
Effortlessly adding student to Think Exam is all time fun.
You can add student, allot them their course & respective batches. Student Manager is a much more like a Lead Management system where you can manage your Leads, check their status whether student is Active, Inactive or Guest User & can store his detailed information.
•Import Student
Students can be imported through excel into the system. You just have to map the column with the fields of the student excel file & all their information be imported in one go.
•Self Registration
Student can register himself from your website or from the student interface provide by Think Exam. Without authentication of his email-id student can't log into student interface.
Email Notification
While adding student into system , a mail notification will be send automatically to student, sending him his profile details along with his email-id and password.
Monetize Your Test
Think Exam offers educators to publish their test series.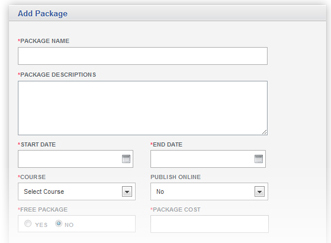 •Create packages
You can create a package of tests & assign cost to it. Bundling tests of different types together and allotting them some cost allow you to double fold your profit. With Think Exam, it is also possible to create free package which can include test of practice & examination nature.
•Sell your Package
Through Think Exam it is possible to sell your online test series to students. Student can pay you by our In-build payment gateway or through our coupon system. Once the payment is done by student you will receive SMS & invoice pdf will be mailed to you & student automatically.
Payment collection methods
Think Exam put forward two methods of collection of payment. One is payment gateway & other one is coupons. Think Exam integrate payment gateway on your behalf & deposit sales into your account on every fortnights with small percentage of amount going towards Think Exam .
You can create coupon and distribute them to your student directly or through reseller. In case of coupon, Think Exam don't charge any amount.
Referral Discounts
Offer discounts to your student for their referral buying's test series from you. Student can refer to their friends and send them a mail to join your knowledge tree.
Student Section
When competition is getting tighter, it's time to act smarter.
Leveraging technology to student always adds a bonus into your account. You can provide your student with technologically sound platform to challenge his performance.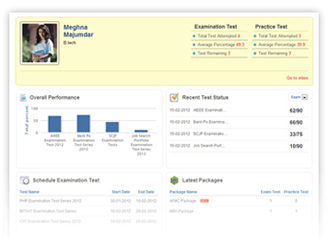 •Dashboard
Dashboards provide your student,
a quick revision of his performance in tests.
He can see the upcoming news & updates
and schedule of his examination test in one go.
My Test
Test are categorised into two form practice and examination.

Examination type test: it can be attempted by student during the timeframe decided by the teacher. Once the examination type test is inactive, student can't further attempt it. Practice type test allow student to practice a test n times.
Test Window
After days of research on test window, Think Exam is able to build an interface for your student which give them the real feel of exam. Once the time of test start moving ahead towards completion, the colour of the clock changes to red. If in any case student exam in close before ending the exam then the status of exam changes to incomplete.

News & Updates
You can always keep your students updated about the upcoming events by publishing news.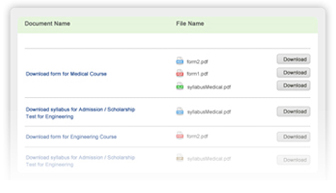 •My Documents
Share notes & Document with students.
Make them the part of your learning cycle.
Detailed Analysis
With Think Exam reporting tool, student gets analysis in all aspect of his preparation.
To remain agile in today's fast-changing competitive environment, you can provide a more effective tool for student for making strategies, planning, and how to execute them at time of online exam.
Planning & Strategies
Through Think Exam reporting tool student can do their detailed performance analysis. They can measure their average % marks in test and find out their strong & weak areas. We offer student with different detailed analysis reports.
Score Card
Time Management Report
Question Report
Solution Analysis
Comparison Reports
Difficulty Level
Topic Report
All Test Report
•Get closer look at Administration
How are your students performing? Trying to answer this question inevitably leads to more: What could you
change to improve their performance? What are the subjects & topics in which your students are weak?
How to increase profitability? Think Exam provide you solution in one go.
Be the first to know.
Get answers to all these above questions and more with comprehensive reporting analytics that correspond to your role and responsibilities. Answer questions, identify priorities, stay on track. Think Exam assist you to make important decisions. You can analyze your sales status & analyze performance of student.
Privacy and Security
Think Exam provide a secure & reliable bunch of measure to safeguard your data.
We understand the severity of these two topics & truly believe that our offerings are great importance to you in this regards. Our relationship with you is among our most important assets and we want you to feel comfortable and confident when using our products.

It takes years to build up trust, and only a second to destroy.It is our responsibility to properly secure your data and our commitment to respect the privacy of the information you place in our systems by not giving that information to others or using it inappropriately.
Security Measures
Our measures include technical and preventive steps to protect your data from misuse, unauthorized access or disclosure, loss, alteration, or destruction. We work to continually monitor for security vulnerabilities that might affect you and to inform you about any issues immediately.
Backup
The data in your Think Exam is backed up nightly to tape and stored in a secure offsite location to ensure that, even in the event of a catastrophe like a tornado or flood, your information will be safe and your records can be quickly restored.